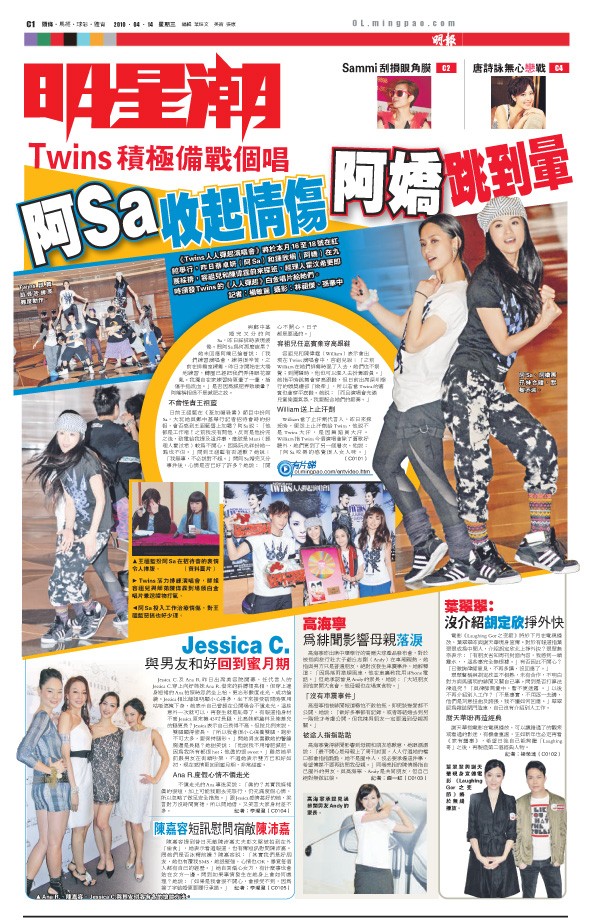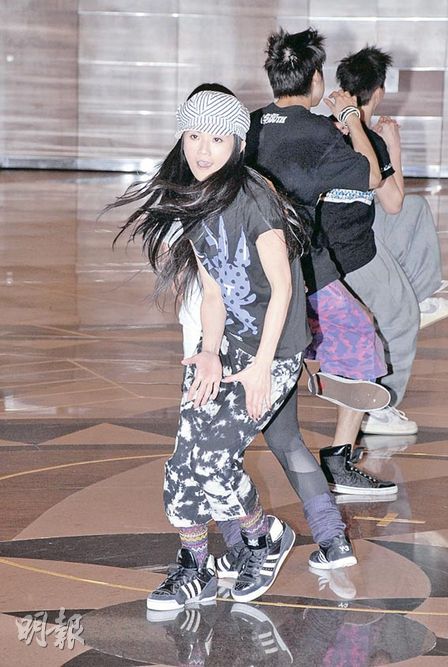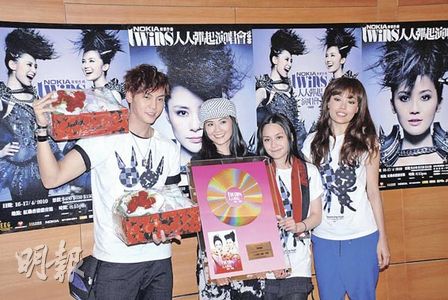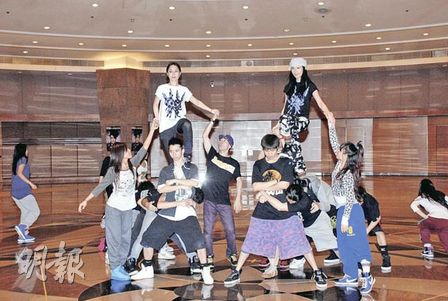 Twins Rehearsal: Ah Sa puts her love injuries away; too much dancing Ah Gil feels dizzy
<Twins Everyone Bounce Up Concert> will be held on April 16 - April 18th in Hong Kong Coliseum. Yesterday Charlene Choi (Ah Sa) and Gillian Chung (Ah Gil) were rehearsing for the concert. Joey Yung and William Chan went to visit them accompanied by their Manager Mani Fok with a platinum disc.
After the divorce press conference with Ronald Cheng, Ah Sa appeared tired at rehearsal yesterday. Asked if she's really that tired? She did not respond, Ah Gil helped her out and said: "We are rehearsing for the concert, it's very tiring because we were practicing in the dance room just before this. We just started this massive rehearsal yesterday, just spinning in circles made us dizzy. When I was practicing at home, I was a little dizzy and scraped my hand, it bled a little too." Did losing too much weight cause the dizziness? Ah Gil believes that it's not because of losing weight.
On last week's episode of <Fun With Liza and Gods>, they were playing with Ronald and Ah Sa's divorce press conference, did Wong Cho Lam's disguise make her feel worse? Ah Sa said: "He's just doing it for work! Before I didn't ask him. It was actually after he did it, then he called me and told me. My manager Mani should be the one upset because Louis Yuen's disguise looked nothing like her." Asked if Cho Lam apologized to her? She said: "I am fine, no need to apologize." Asked if she's feeling better now after the whole marriage/divorce incident? She said: "Happy or not, still gotta get through the days."
Joey and William expressed that they will make a guest appearance at Twins concert. Joey said: "Before when they were at dance rehearsal, William sneaked in and they didn't notice. When it's time for the actual show, William can sneak in again and pretend to be one of the dancers." She said that usually when she's dancing, she would wear high heels, but yesterday she sprained her ankle at the ShenZhen award ceremony, so she'll be appearing in flat shoes at Twins' concert. She said: "Also the concert is filled with young children fans, I should accommodate the atmosphere."
William expressed that besides Twins concert having good songs to listen to, they have also reached another level. He said: "When Ah Sa bites her lip, she really got a taste of feminism."
Original article:
Spoiler:

阿Sa收起情傷 阿嬌跳到暈
Twins積極備戰個唱

【明報專訊】《Twins人人彈起演唱會》將於本月16至18號在紅館舉行,昨日蔡卓妍(阿Sa)和鍾欣桐(阿嬌)在九展綵排,容祖兒和陳偉霆前來探班,經理人霍汶希更即時頒發Twins的《人人彈起》白金唱片給她們。

與鄭中基婚完又分的阿Sa,昨日綵排時表現疲倦。問阿Sa為何那麼疲累?她未回應阿嬌已搶說﹕「我們練習演唱會,練得很辛苦,之前在排舞室練舞,昨日才開始在大場地練習,轉圈已經把我們弄得眼花撩亂。我獨自在家練習時更暈了一暈,插傷手指流血。」是否因為減肥弄致頭暈?阿嬌稱相信不是減肥之故。

放大及觀看全部圖片(6張)

不會怪責王祖藍

日前王祖藍在《荃加福祿壽》節目中扮阿Sa,大玩她與鄭中基舉行記者招待會時的扮相,會否感到王祖藍雪上加霜?阿Sa說﹕「他都是工作!之前我沒有問他,反而是他扮完之後,致電給我提及這件事,應該是Mani(經理人霍汶希)較為不開心,因為阮兆祥扮她一點也不似。」問到王祖藍有否道歉?她說﹕「我無事,不必說對不起。」問阿Sa婚完又分事件後,心情是否已好了許多?她說:「開心不開心,日子都是要過的。」

容祖兒任嘉賓棄穿高跟鞋

容祖兒和陳偉霆(William)表示會出現在Twins演唱會中,容祖兒說﹕「之前William在她們排舞時混了入去,她們也不察覺;到開騷時,他也可以混入去扮舞蹈員。」她指平時跳舞會穿高跟鞋,但日前出席深圳舉行的頒獎禮卻「拗柴」,所以若當Twins的嘉賓也會穿平底鞋。她說﹕「而且演唱會充滿兒童樂園氣氛,我要配合她們的節奏。」


William送上止汗劑

William當了止汗劑代言人,昨日來探班時,便送上止汗劑給Twins,他說不是Twins大汗,是因舞蹈員大汗。William指Twins今個演唱會除了舊歌好聽外,她們更到了另一個層次,他說:「阿Sa咬唇的感覺很人女人味。」

---
Permissions in this forum:
You
cannot
reply to topics in this forum