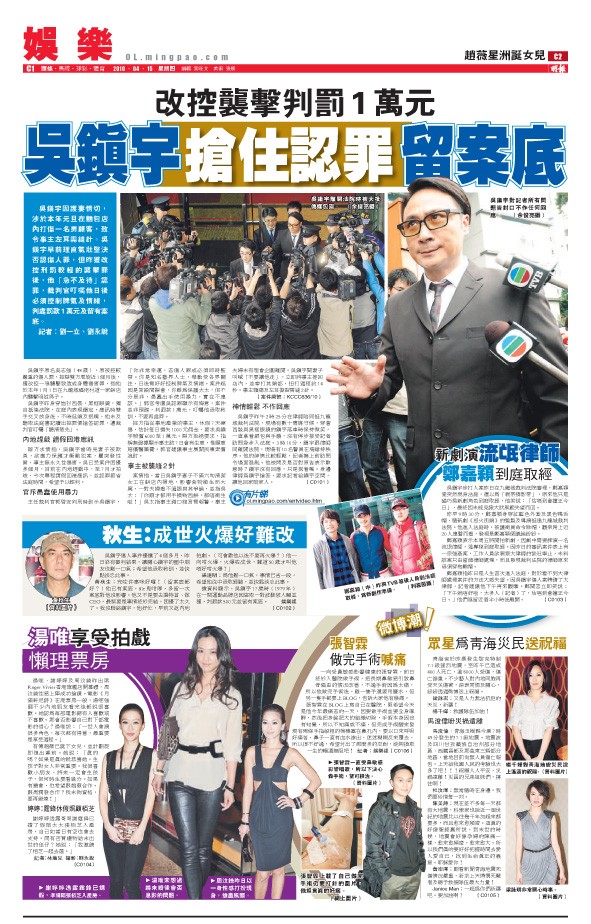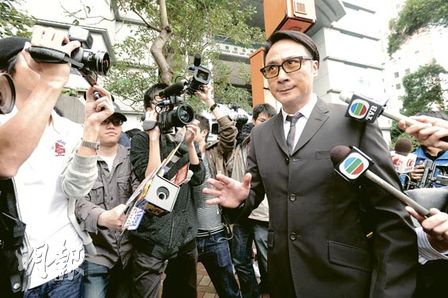 Translated by Successor, celebs.talk-forums.com
To protect his wife, Francis Ng was involved with assaulting a male customer as a bread shop on the New Year day, and the male customer left ear has to is sewed with a needle. Francis Ng was very proud previously and deny all charges, however when his charges was reduced to a mere fine, he admits to his crime immediately. The judge reminds him to controls his temper and emotion and slaps him with a fine of HKD$10,000 and leaves him with a criminal record.
Francis Ng, original Name Wu Zhi Qiang (48 years old), orginally was charged with serious assaulting, however as case goes on for about 1 month, his charges was changed to casuing bodily harm, charging him with assaulting a male customer at a bread store at Kowloon, Fuk Lo Tsun Road.
Francis Ng was wearing a T-shirt and trousers, black rimmed spectacles, and arrived at the court alone. During which he remained calm and placed his crossed hand behind his back and occassionally bend his head and wipe his mouth. He has not heard he court's secretary reads out his charges against him before to admitting to his crime anxiously, and at that the judge asked him to listen carefully first.
Filming at Mainland, taking leave to return to Hong Kong for court hearings.
His defence lawyer says that Francis Ng upon seeing his wife was being bullied, did all his best to protect, which was why he committed the crime on impulse, and was counted as a sudden occurence. Francis Ng was tormented by this case for months, and currently he is filming in Mainland till July, for this time he specially took leave to come back to Hong Kong for this court hearing and admit to his crime to save the court's precious time, and hopes for a light sentence.
Judge repreimanded Francis for using violence foolishly
Chief Judge, Guo Qi An on giving his sentence, reminded Francis Ng that "You are very lucky, if you are guilty for assaulting, you have to be jailed. You are a celebrity, and all your actions are followed closely, and you need to control your temper and emotions. This case was due to a language misunderstanding,although you were protecting your wife, however you did not check the truth and you should not be using violence foolishly." Cheif Judge, Guo considered that Francis Ng was indeed regretful and that this was not intentional and therefore fined him HKD$10,000 and reminded him to learn his lesson and not act on impulse.
The prosecutor pointed out that the victim was a property agent, and taking leave will cause him to lose HKD$1000 commission per day and demand Francis to compensate between $6000 to $10,000. The defencing laywer refuses the demand and pointed out that the victim might not have any commission within the 7 days, but is only willing to compensate for the medical fees. Chief Judge, Guo, suggested that the victim take civil claim for the compensation.
The victim was given 2 needles.
The case stated that on that day, Francis Ng's wife was not pleased with the 60 year old female sweeper sweeping in the biscuit shop, affecting hygiene and started scolding. However a couple whom was unhappy to see such scolding's, pointed at Francis's wife and stated that "It was also unhygienic when you touched the biscuit with your hands just now." Francis wife claimed that the couple was all vulglar and wanted to call the police, however the couple ignored and decided to leave instead. Francis upon seeing his wife shouting "Dont let him go", immediately pushed the victim back to the shop and started assaulting his head. The whole process took about 14 seconds and the victim complained of a neck pain and also has to be given 2 needles.
Original Article:
Spoiler:

吳鎮宇搶住認罪 留案底
改控襲擊判罰1萬元

【明報專訊】吳鎮宇因護妻情切,涉於本年元旦在麵包店內打傷一名男顧客,致令事主左耳需縫針。吳鎮宇早前理直氣壯堅決否認傷人罪,但昨獲改控刑罰較輕的襲擊罪後,他「急不及待」認罪,裁判官叮囑他日後必須控制脾氣及情緒,判處罰款1萬元及留有案底。

吳鎮宇原名吳志強(48歲),原被控較嚴重的傷人罪,控辯雙方周旋近1個月後,獲改控一項襲擊致造成身體傷害罪,指他於本年1月1日在九龍城福佬村道一家餅店內襲擊明姓男子。


吳鎮宇昨身穿恤衫西裝,黑框眼鏡,獨自抵達法院,在庭內表現鎮定,應訊時雙手交叉放身後,不時低頭及抿嘴,他未及聽取法庭書記讀出控罪便搶答認罪,遭裁判官叮囑「聽清楚先」。


內地趕戲 請假回港應訊

辯方求情指,吳鎮宇當時見妻子被欺負,欲盡力保護才衝動犯案,屬突發性質,事主無永久性傷害。吳已受案件困擾多個月,目前在內地趕戲中,至7月才拍竣,今次專程請假回港應訊,並認罪節省法庭時間,希望予以輕判。


官斥愚蠢使用暴力

主任裁判官郭啟安判刑時訓示吳鎮宇,「你非常幸運,若傷人罪成必須即時監禁。你是知名藝界人士,舉動受各界關注,日後需好好控制脾氣及情緒。案件起因是言語間誤會,你雖為保護太太,但不分是非,愚蠢出手使用暴力,實在不應該。」郭官考慮吳認罪顯示有悔意,案件並非預謀,判罰款1萬元,叮囑他汲取教訓,不要再鹵莽。

控方指從事地產業的事主,休假7天療傷,估計每日損失1000元佣金,要求吳鎮宇賠償6000至1萬元。辯方拒絕要求,指稱無證據顯示事主該7日會有生意,惟願意賠償醫藥費。郭官建議事主展開民事索償追討。

事主被襲縫2針

案情指,當日吳鎮宇妻子不滿六旬清潔女工在餅店內掃地,影響食物衛生而大罵,一對夫婦看不過眼與其爭論,並指吳太:「你剛才都用手摸西餅,都唔衛生啦!」吳太指事主滿口粗言需報警,事主夫婦未有理會企圖離開。吳鎮宇聞妻子叫喊「不要讓他走」,立即將事主推回店內,並拳打其頭部,扭打過程約14秒。事主頸痛及左耳撕裂需縫2針。

---
Permissions in this forum:
You
cannot
reply to topics in this forum