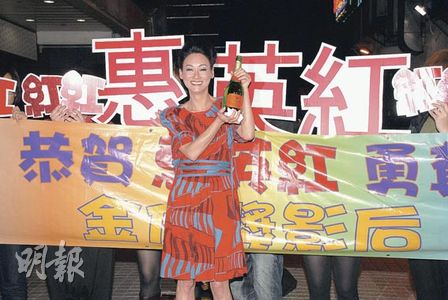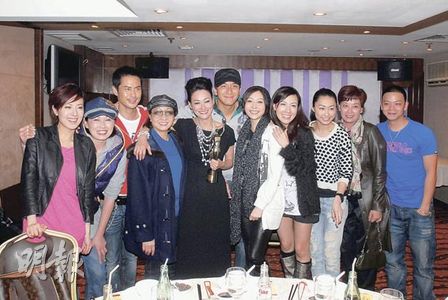 Kara Hui was crowned Best Actress again after 28 years at the Hong Kong Film Awards for her role in <At the End of Daybreak>. The night before, she especially attended the <A Fistful of Stances> finale celebration dinner after the ceremony. The cast of <Fistful> celebrated with her, the male leads Kevin Cheng and Kenneth Ma give her a kiss. She then happily kissed each female guest on the lips to thank them.
That night, Kara went on stage and gave a moving thank you speech. When speaking of her "stupid" actions of attempt suicide, she has to especially thank Chung Wai Ping and Meg Lam (Sa Jeh). Kara explained that Chung Wai Ping is her 20+ year good friend, they grew up together and she felt that whenever she has something on her mind, she would always go cry and talk about it with Wai Ping. When she wanted to commit suicide, Wai Ping knew about it and tried her best to help. Although Sa Jeh's health was not well, she still provided all the support she can. For these reasons, Kara had to especially thank them. After crying emotionally on stage, she and everyone else held a huge celebration. However, when she thought about that the award really is real, she cried again.
She laughed and said that for this award, she "lost half her life". Because she was so anxious for the award ceremony, she wanted to look her best in her evening dress, so she didn't eat and had stomach pains from the hunger. Asked if she taken any medication before going on stage? She said that she aready taken medication prescribed by her doctor.
Kara admitted that she is happier about the HK film award than the Golden Horse award because this one relates to a span of 28 years. Within these years there has been times of ups and downs.

_____________________


When you kiss someone for a minute, you both burn about 2.6 calories.

According to that math, it would take about an hour of kissing to burn 156 calories. A person who runs for 45 at a 10mph pace burns 538 calories. Which one would you rather do?

I would rather kiss a person for 6 hours instead =)

---
Permissions in this forum:
You
cannot
reply to topics in this forum