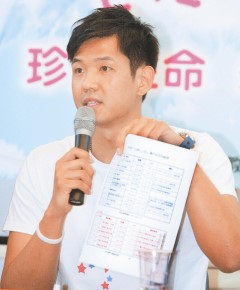 Blackie (黑人) Chen Jien-chow (陳建州) was accused by Next Magazine of pocketing money from his Love Life charity drive. The report claimed that the charity was hawking T-shirts for NT$580, of which only NT$100 per shirt went to terminally ill children with cancer and the rest to Blackie.
Blackie broke down in front of media on Wednesday and explained tearfully that the extra money was used to cover costs for the event; he never pocket any money.
A discussion program on TVBS 2100週末開講 discussed Blackie's incident yesterday and they made a call out to Blackie, letting him speak up his views. Blackie stressed that selling t-shirts is not the main point, the point is he's selling a positive idea. Although he's in crisis now, but he will continue to do the rest.
TV personality and also once a TSU candidate Clara Chou Yu-Kou (周玉蔻) believed Blackie was just trying to switch the focus, and said "Don't you think you should apologize? Nothing was wrong?" "You're not wrong at all, it's all other's faults?" She described this type of charity as "hypocritical" The world "hyprocrite" angered Xiao S, who is Blackie's good friend, and she made a call in to the show.
"Hello, I'm Xiao S, hello everyone. I'm just watching television, and just watched Miss Chou'spart. After hearing it, I'm very emotional, it's very unbelievable."
She continues, "I've been donating money to charities with Da S these years. Every penny I donate, I never thought about avoiding taxes. Of course it's okay, but when we're doing good deeds, we just want to help others. She [Clara Chou] said Blackie's idea is very hypocritical, and I think what she just said is truly evil."
The two started to argue nonstop that their words were overlapped by each others' words. Chou told Xiao S to take back the word "evil": "When you said someone is evil behind your telephone, I feel sorry for your two daughters...Xiao S, please take back your false description, because you're an artiste, a mother."
Xiao S apologized calmly, "Chou Jie, I'm willing to apologize, I'm willing to take back the word 'evil,' why aren't you willing to take back 'hypocrite'?"
The two eventually stopped their argument with the interruption from the host. Chou's opinion also displeased many netizens and they made an anti-Clara Chou page on Facebook. More than 35,000 people joined in just several days. Chou made an appearance to explain and persisted her opinion, thinking the events online is just to switch focus; Blackie should terminate his event and apologize.

_____________________


When you kiss someone for a minute, you both burn about 2.6 calories.

According to that math, it would take about an hour of kissing to burn 156 calories. A person who runs for 45 at a 10mph pace burns 538 calories. Which one would you rather do?

I would rather kiss a person for 6 hours instead =)

---
Permissions in this forum:
You
cannot
reply to topics in this forum