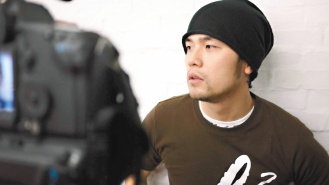 Translated by Successor, celebs.talk-forums.com
Since Jay Chou's world tour concert started on June in taiwan, the tickets of his 2 concert was sold out in just 1 day. The organisers is deciding whether to increase the number of concerts in Taiwan. And his concert in Shanghai and Beijing, Jay Chou is considering letting his grandmother to be the concert's guest of honour.
According to mainland's media, the much filial Jay, not only used his mother's name as the title of his album, his grandmother whom is good in ballroom dance also appeared in his self directed MV. He also says that his grandmother has a very generous, frank and open image and is very popular with his fans, and to add on his grandmother will also listen to all his songs, that is why he invited her as a guest to his concert. However as she is aged, her appearance has to be much discussed by the personnels.
Another issue is that, this year is Teresa Teng's 15th Death Anniversary, and on the 15th May "Teresa Teng's foundation" will be holding her music commemoration at Chengdu, and Jay Chou is invited to attend. Teresa Teng's third brother expressed that although Jay Chou's music style is different from Teresa Teng, however when he was invited to the music commemoration, he readily agreed and even says that when he was young he used to listen to her songs and has liked it very much. However the songs sung in the commemoration is confidential as of now, the JVR and the organisers are unwilling to comment more.
Original article:

_____________________


When you kiss someone for a minute, you both burn about 2.6 calories.

According to that math, it would take about an hour of kissing to burn 156 calories. A person who runs for 45 at a 10mph pace burns 538 calories. Which one would you rather do?

I would rather kiss a person for 6 hours instead =)

---
Permissions in this forum:
You
cannot
reply to topics in this forum