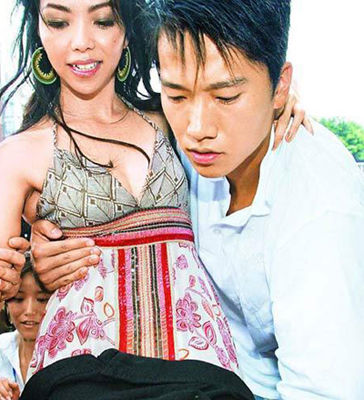 Lately Taiwanese media reported basketball star He Shou Zhen brought former girlfriend to motel while A-Mei was touring in Japan. A-Mei's response to the incident was cold. She replied through her manager: "These past 5 and 6 months, we're in the stage of observing each other, at a stage of breaking up."
The couple met in 2006 when filming a beer commercial together. The two are 11-years apart and because of this, others have no hope in this relationship. He Shou Zhen never replied the romance directly. Although the two went to dine in a restaurant sweetly last November, but it's known after that last date, their romance already cooled down gradually.

_____________________


When you kiss someone for a minute, you both burn about 2.6 calories.

According to that math, it would take about an hour of kissing to burn 156 calories. A person who runs for 45 at a 10mph pace burns 538 calories. Which one would you rather do?

I would rather kiss a person for 6 hours instead =)
A-Mei's relationship with He Shou Zheng really is over! Yesterday A-Mei was in the airport, ready to take the flight to Kuala Lumpur. She accepted interviews from reporters. When asked is Zheng-Mei romance is really over, she admitted calmly: "Last year around December, we already agreed to separate for while."
A-Mei made her first public appearance in the airport yesterday. She lightly explained the reason of their split: "Shou Zheng and I, agreed in around last December, that maybe we should separate for a while. In fact there are many things and problems that we must deal with. Now we're still good friends, will talk on the phone."
A-Mei admitted that the reason she didn't disclose details was she's always low-key in handling her own relationship: "This time I felt my family and Shou Zheng's family got involved, which isn't that good. So I took this opportunity today to explain to everyone."

_____________________


When you kiss someone for a minute, you both burn about 2.6 calories.

According to that math, it would take about an hour of kissing to burn 156 calories. A person who runs for 45 at a 10mph pace burns 538 calories. Which one would you rather do?

I would rather kiss a person for 6 hours instead =)

---
Permissions in this forum:
You
cannot
reply to topics in this forum