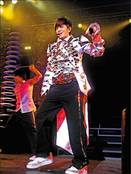 Show "Xiao Zhu [Little Pig]" Lo held his first concert in Shibuya Tokyo, winning over 1,500 sakura girls (Japanese girls), the wild/crazy scene had all of Shibuya on a high. After the concerts, fans were falling over each other, eager to join the fan club, an unprecedented grand occasion.
Entirely in Japanese : Zero-Distance With Fans
Unlike any other Taiwanese artists that have held concerts in japan, Show Lo's fans were almost all "pure" sakura girls. His opening number of song and dance got his fans to the peak of excitement immediately. For the entire concert, he used the Japanese skills he had learned from watching television to communicate with his fans, "Zero-distance."
Yesterday, he sang a total of 18 songs, including SMAP's "Lion Heart." When he got to his performance of "Ji Fen," he invited a fan on stage, holding her hand and giving her a hug. At the end, he even let her kiss him, making all the sakuras in the audience scream in jealousy.
Koda Kumi Sends Flowers To Cheer Him On
After the concert, Show was interviewed and he had mentioned that he was very happy to have been able to fulfill his dream of holding a concert in Japan. Next time he hopes to, "enter the Nippon Budokan (another venue)." He said he saw fans in the audience cry, which made him really touched. In the past couple of days, he was recognized by many Japanese fans as he shopped in Tokyo, which made him very excited as well.
At the concert, Koda Kumi had sent flowers that were extremely eye-catching. He said that he had originally wanted to invite Koda Kumi to sing at his concert, but she was having a concert out of the country.
Show said that he was envious of Lin Chih Ling being about to film a Jdorama, especially when working with his "most favorite" Kimura Takuya. He directly said, "I'm in admiration, being able to stick with Kimura Takuya everyday, and possibly kissing scenes." The media then started to ask, "You want to film kissing scenes with Kimura Takuya?" He shyly responded, "If you let me dress up as a girl, then I'm willing."

_____________________


When you kiss someone for a minute, you both burn about 2.6 calories.

According to that math, it would take about an hour of kissing to burn 156 calories. A person who runs for 45 at a 10mph pace burns 538 calories. Which one would you rather do?

I would rather kiss a person for 6 hours instead =)

---
Permissions in this forum:
You
cannot
reply to topics in this forum