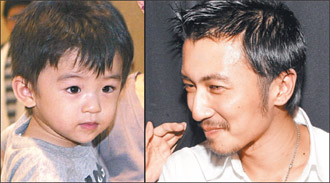 Although Nicloas is back to Hong Kong, but he still has to voice for a movie, he was asked: "Did Cecilia pick an auspicious hour to deliver through c-section?" He said: "No, still quite early. (How does your wife feel and does she have a good apetite?) Of course she's all good, I'll be with her in the delivery room."
NDDaily interviewed Patrick Tse lately and he praised greatly of his daughter-in-law: "I never thought she would stop during her golden period of her career, and get married and have kids. I've been in the showbiz for this long, there was never a girl like that. In the past, she would play mahjong and go to sing karaoke with friends, now she won't go anymore, only stay at home or visit her grandma and mother-in-law, or take care of kids and shop, she is a very optimistic and strong woman."
Talk about Nicolas, Patrick said: "Nicolas became a different person after getting married, he's doing everything for his family. He cares about his wife, and is strict with his son. He will tell Lucas, 'be honest, don't move.'" Talked about grandson Lucas, Patrick said: "Lucas likes to listen to music and dance. He would dance whenever he listens to Michael Jackson's songs." Asked does he support Lucas stepping into the showbiz? Patrick said: "He has interest in it already, 100%, definitely going to be his career."

_____________________


When you kiss someone for a minute, you both burn about 2.6 calories.

According to that math, it would take about an hour of kissing to burn 156 calories. A person who runs for 45 at a 10mph pace burns 538 calories. Which one would you rather do?

I would rather kiss a person for 6 hours instead =)

---
Permissions in this forum:
You
cannot
reply to topics in this forum