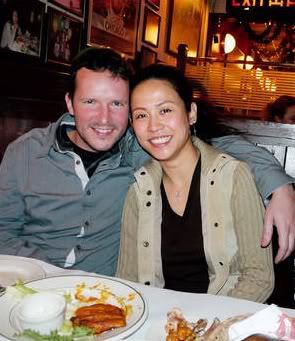 Since Jessica Hsuan started dating her veterinarian boyfriend Ruan, her love life became one of her priorities. Back in the 90s, Jessica was known as a workaholic involving herself in many series and also been in several relationships that did not work out. But what really made her realize that health was more important was when she was filming for "A Step Into The Past". Jessica said that she was hospitalized during filming and realized that health is what is most important to her. Even if she was rich from all the money she earned from work, what could that do if you were sick? Her current schedule is relaxed and reasonable. Nowadays, she's more selective when choosing which series to accept, like the cast and the time of year.
She also implies that she may be getting married next year. Jessica says that she believes in fate and when two people are meant to be, they will be completely ready for marriage. For her wedding, she hopes for a simple celebration just like Daniel Wu and Lisa. S.
What does Jessica like about her boyfriend? She says that they have a lot in common, he's humorous and nice. He treats her parents well and takes work seriously. About her boyfriend being too nice, Jessica feels that it's not always a good thing because people will start using him and Jessica has to be the bad person to speak up for him.

_____________________


When you kiss someone for a minute, you both burn about 2.6 calories.

According to that math, it would take about an hour of kissing to burn 156 calories. A person who runs for 45 at a 10mph pace burns 538 calories. Which one would you rather do?

I would rather kiss a person for 6 hours instead =)

---
Permissions in this forum:
You
cannot
reply to topics in this forum