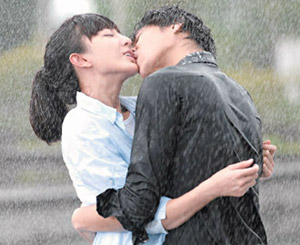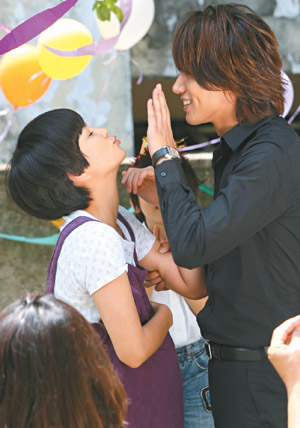 Blue Lan and Sonia Sui kissed int the rain for nearly one hour for "P.S Man." Blue joked: "We kissed near fish ponds, so there was seafood smells." Sonia then said: "Sometimes the rain was too heavy, when we kissed, the rain dripped down from our mouths." This is Blue's other kissing scene in the drama after kissing Bianca Bai.
CTV/GTV's "Down With Love" will air its finale today/tomorrow (Sunday, May 23). Ella and Jerry will have a happy ending. But in a proposing scene, Jerry didn't seem to have good skills in proposing. His words cluttered during filming and made Ella laughed: "It's too bad! He can't find a wife!"
In the last episode (Episode 16), Ella will play a pregnant woman the first time. She put a big pillow on her stomach and filmed in a 38 Celsius hot weather. After several hours, her pillow got wet. Ella joked: "When we released our fourth best collection album, I, Selina, and Hebe all played pregnant women. Besides having a big belly, I also had a kid with me."
CTS' "Calling For Love" will feature man-to-man kissing between Mike He and Shawn Chen. Mike said: "The moment we kissed, I tried so hard to suppress my thought of kicking him away, it really was uncomfortable."

_____________________


When you kiss someone for a minute, you both burn about 2.6 calories.

According to that math, it would take about an hour of kissing to burn 156 calories. A person who runs for 45 at a 10mph pace burns 538 calories. Which one would you rather do?

I would rather kiss a person for 6 hours instead =)

ella as a pregnant woman!

the second pic. looks like ella is begging for a kiss from jerry..haha
she looks like jerry yan's "yaya"...

angsterslover

Advance Member





Join date

: 2010-05-04


Location

: Philippines


Posts

: 403




---
Permissions in this forum:
You
cannot
reply to topics in this forum