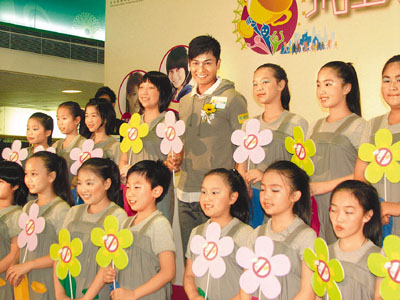 Yesterday Roger Kwok attended to a smoking cessation event as ambassador. Roger expressed it's convincing for the organization to pick him as their ambassador, because he was a long-time smoker who had smoked for more than 10 years, he quit completely 6 years ago.
Roger said: "When I first entered the showbiz, I had to work overnight due to filming, and smoking became a habit, I smoked 2 packs in one day before. (How did you quit?) I found my body was in bad health, out of breath when singing, also my heart beat very fast everyday. So I tried to quit, but because friends nearby lured me so it wasn't successful. I successfully quit at the second time." Asked what motivated him to quit smoking again? Roger joked it was because of Myolie Wu: "There was a scene where Myolie has to sit in cart, I played a cart driver After I "drove" for one lap, I felt my heart beating very fast and out of breath. I had to NG and relax for 5 minutes to continue filming. At that moment I knew I cannot be like that anymore, so I decided to quit."
In addition, talked about Raymond Lam's new series "Mysteries of Love" copying Japanese drama "Galileo", Roger said actors absolutely will not copy another actor's performance, different actors portraying the same character will have different effect, it's good if everyone pay attention to how Raymond's acting is different than the male lead in "Galileo."

_____________________


When you kiss someone for a minute, you both burn about 2.6 calories.

According to that math, it would take about an hour of kissing to burn 156 calories. A person who runs for 45 at a 10mph pace burns 538 calories. Which one would you rather do?

I would rather kiss a person for 6 hours instead =)

---
Permissions in this forum:
You
cannot
reply to topics in this forum