Ethan Ruan
Chinese name 阮經天 (Traditional)
Chinese name 阮经天 (Simplified)
Pinyin ruǎn jīngtiān (Mandarin)
Origin Taiwan
Born November 8, 1982 (age 26)
Taiwan
Other name(s) Ethan Ruan Jing Tian
Occupation Model, Actor

cheez_ing

Member Plus





Join date

: 2009-05-02


Location

: Singapore


Posts

: 60


Age

: 26



Actually I find him abit normal lehs..
be it his style or his looks, although everyone is saying him hot.

_____________________


When you kiss someone for a minute, you both burn about 2.6 calories.

According to that math, it would take about an hour of kissing to burn 156 calories. A person who runs for 45 at a 10mph pace burns 538 calories. Which one would you rather do?

I would rather kiss a person for 6 hours instead =)
He's quite good-looking la, more of nai kan kind of good-looking

cheez_ing

Member Plus





Join date

: 2009-05-02


Location

: Singapore


Posts

: 60


Age

: 26



I also find him normal looking leh, nothing so special about him.

Is he very popular? I only knew of such a celebrity when watching this year's Star Awards...
haha really? he's quite famous in taiwan.. he acted in lots of famous taiwan drama..
Ethan Ruan is unfazed about losing foothold in the hearts of fans, and is prepared to go an extra mile and "drop his hair" for his career.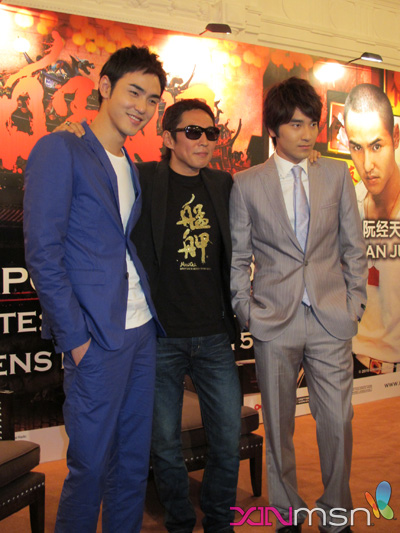 Taiwanese model-actor Ethan Ruan, 28, was in town on Monday together with fellow cast and actor Mark Chao and director Doze Niu to promote his latest action movie, Monga.
More known for his suave and debonair image in popular Taiwanese idol dramas like My Queen and Fated to Love You, Ethan will be taking a turn from his usual genteel roles to portray a brash and raucous triad member in Monga.
In an exclusive interview with xinmsn, Ethan said, "I want to challenge myself and to try something different in every role that I play."
Unfazed about losing fans with his movie's scruffy image, the 1.84m-tall strapping lad is even prepared to "drop his hair" for his career.
Sporting a perfectly-coiffed hairdo for the interview, Ethan declared his love for his bald-do in the movie. "I like my bald-head image in the movie, I've always liked short hair styles!
"It's strange but almost all my male friends prefer me in short hair, even Mark (his co-star in Monga) thinks I look better with a bald head."
In-between laughter, he added, "However, the ladies would always tell me to keep my hair long."
To maintain a consistency in his character's appearance for the movie, Ethan had to shave his head every three to four days. He also had to put up with aching bruises and swells from the movie's fighting scenes.
Despite the physical torment, the dedicated star had no complaints. "Perhaps because I'm a lazy person, I don't like to pay too much attention to my hair, so going bald suits me fine!"
Talk about professionalism and going lengths for a role. It's no wonder director Doze had nothing but praises for Ethan when the trio made an appearance at the press conference held at The Fullerton Hotel on Monday afternoon.
"Ethan's focused performance during filming really surprised me. He was in tip-top condition right from the start of the shoot. He's definitely come far since his Wayward Kenting days," said the director whose first collaboration with Ethan was the 2007 Taiwanese idol drama series.
Apart from Ethan, Monga also stars newbie actor, Mark, whose popularity skyrocketed after acting opposite F4 member Vic Zhou in the Taiwanese drama, Black and White.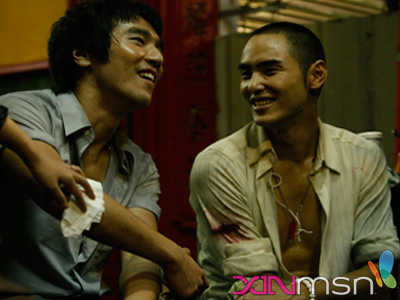 Instead of seeing Mark as a fellow competitor, the modest Ethan prefers to see his presence as "a form of support" and aptly likened it to the structures of a building.
"Just like pillars of a building, we cannot do without either one of us. Together, we raise our movie to greater scales," he surmised.
Set in the 1980s, Monga showcases the adventures of five youths growing up in the underworld at Monga - Taipei City's oldest district. Ethan takes on the role of a fierce but intelligent triad member, who is the incognito leader of Taizi Gang.

---
Permissions in this forum:
You
cannot
reply to topics in this forum